CAMPANILE ASSISI UMBRIA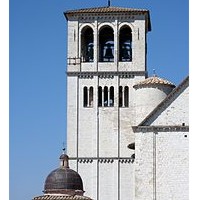 Basilica of Saint Francis of Assisi refers to French Gothic spire of the fašade, the momentum and the portal bipartite. While horizontal and the shelves are Italian rosette.

The Bell Tower of the 13th century presents a game of picture frames and Lombard bands who take turns making him seem lower than it actually is.
The lower Church looks like a serious, powerful, dark arch construction crushed and sometimes prone in stark contrast to the upper Church soaring, spacious, airy, bright.
CAMPANILE ASSISI UMBRIA
Informazioni article by:
REDAZIONE, Pisa